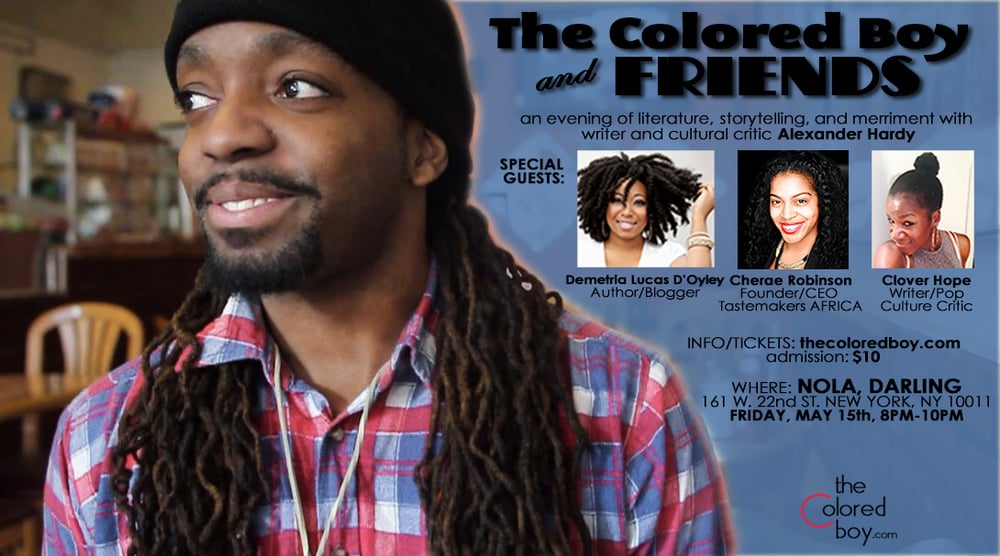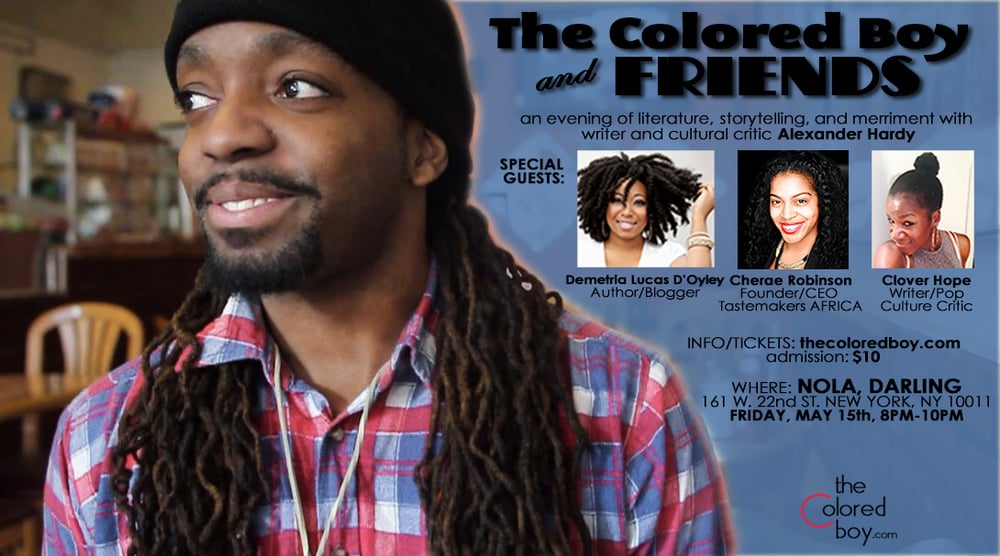 Colored Boy and Friends - May 15 - New York
$10.00
Join us for a night of literature, storytelling, and merriment brought to you by writer and cultural critic Alexander Hardy of The Colored Boy. This edition of the conversation series and literary showcase features Alexander in conversation with Cherae Robinson (CEO/Founder of Rare Customs and Tastemakers Africa), Demetria Lucas D'Oyley (blogger and author of "Don't Waste Your Pretty: The Go-To-Guide For Making Smarter Decisions In Life & Love"), and the lovely Clover Hope (pop culture critic and Jezebel staff writer), tackling everything from race, writing and Africa to grits, book publishing, Kendrick Lamar and Internet fuckery.
These talented creators and influencers will accompany Alexander onstage for some storytelling, introspection, and lively Q&A. Just know that anything is possible. As this occasion falls during lupus awareness month, on Put on Purple for lupus awareness day, he'll be reading a new essay about his 10 year lupus journey. (Find more of Alexander's work at thecoloredboy.com.)
Cocktails will be handled by master mixologist Blue Rivera.
This spring edition of Colored Boy and Friends shall be an intimate, wankster-free experience. Dress code: Like you have some damn sense.
Event page on Facebook: The Colored Boy and Friends
Where:
Nola, Darling, 161 W 22nd St (between 6th and 7th Aves), New York, NY 10011
When:
Doors: 7:30 PM
Main Event - Friday, May 15, 8PM-10PM
Admission: $10
For more info: mr.alexhardy@gmail.com or @chrisalexander_ on Twitter